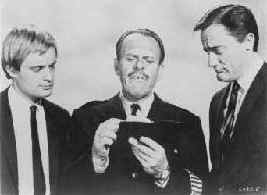 GUEST STARS
Many actors have appeared on THE MAN FROM U.N.C.L.E. and its spin-off, THE GIRL FROM U.N.C.L.E., as guest stars. In this section, we will highlight some of the more notable ones. (Clicking on the name will bring you to that actor's filmography courtesy of the Internet Movie Database). We will continue to add more and so come back and check often!
Joan Crawford
Joan Crawford was already an established star by the time she appeared in the two-part episode "The Five Daughters Affair" (released in theaters as "The Karate Killers".) Her role may better be described as a cameo appearance since she was only in one brief scene, which she did, rumor has it, to impress her grandchildren.
Janet Leigh and Jack Palance
Jack Palance and Janet Leigh worked together in "The Concrete Overcoat Affair" (seen in movie houses as "The Spy in The Green Hat"), an episode that spoofed the thirties gangster films and featured supporting roles from Joan Blondell, Eduardo Giannelli, Jack LaRue, and Allen Jenkins.
Jill Ireland
Jill Ireland appeared in no less than five MAN FROM U.N.C.L.E. episodes - "The Giuoco Piano Affair", "The Quadripartite Affair", "The Tigers are Coming Affair", "The Five Daughters Affair" (a two-parter). She was married to David McCallum when the series began but the two divorced in 1967 during the show's run.
William Shatner and Leonard Nimony
Before William Shatner and Leonard Nimoy became known as Captain Kirk and Mr. Spock on STAR TREK, they appeared in "The Project Strigas Affair", the first season MAN FROM U.N.C.L.E. episode, marking the first time the duo appeared on screen together (though they did not share a lot of on-screen time).
Sonny and Cher
During the height of the Sony & Cher's popularity, the duo appeared in the MAN FROM U.N.C.L.E. episode "The Hot Number Affair". Even by third-season standard, this episode is considered by many fans as one of the less memorable ones.
Boris Karloff
Playing against type, Boris Karloff made a comedic turn on The GIRL FROM U.N.C.L.E. episode "The Mother Muffin Affair" as a woman!
Internet Movie Database
IMDB has a list of U.N.C.L.E. guest stars.
Back to ACTORS Index Page